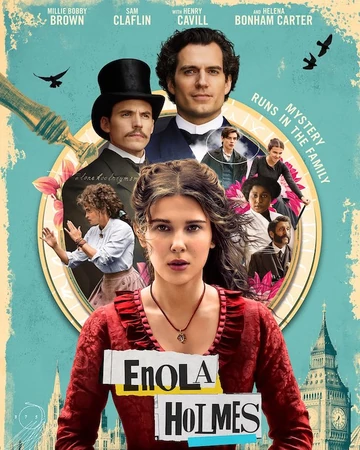 (You will have to watch this on another device than your Chromebook.)
Quick Info: On Netflix, 2020, with Millie Bobby Brown, Henry Cavill, and Helena Bonham Carter. Rated PG-13.
If you like Sherlock Holmes but wish it was a little more feminist, Enola Holmes is the right movie for you. Based on the book by Nancy Springer, the movie explores if Sherlock Holmes had a younger sister. Enola lives with her single mother and grows up in an unusual way. When her mother goes missing, Enola must find her and her brothers don't really help her much. Her oldest brother, Mycroft Holmes, thinks Enola is uncivilized and tries to send her to a finishing school where she is supposed to learn how to be proper. Instead, Enola looks for clues and runs away to find her mother. As the movie continues, Enola meets Lord Tewkesbury, and she starts to solve another mystery. It turns out that Enola's strange childhood has made her a really good detective. I don't want to spoil the whole movie; it's a suspenseful mystery. If you like mysteries or stories about Sherlock Holmes, then you will like this one.