Unlocking the Key to Dr. McKee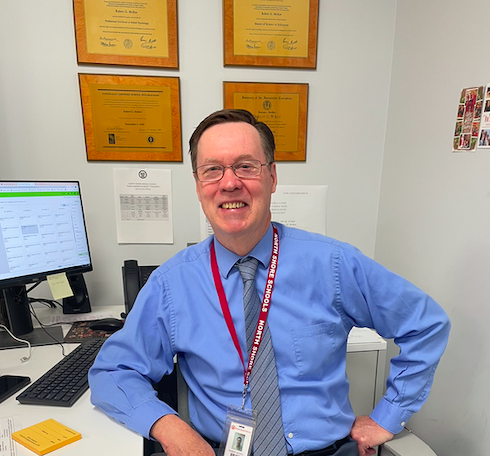 Debatably our most loyal staff member here at North Shore, school psychologist Dr. McKee, called Mr. McKee by students, will be leaving us for retirement at the end of this year. He has been a positive influence on many of the teachers, and all the students he worked with have fond memories of him. His presence in the school will be missed next year, although he very modestly downplays it. I discussed with him things of fascination about his life past, present, and future. Join me as I "unlock the key" to Mr. McKee.
How did you come to North Shore? What was your life before that?
Well, the story was that I was a Catholic priest and had left it. I was looking for a new line of work and one of my parishioners, Jim, was an ex-Catholic priest who was a school psychologist who told me I should go into school psychology. I thought about it for a while, and I decided, Okay! That sounds like a good career for me!
What made you become a Catholic priest?
I grew up in a very Catholic home, I went to St. Christopher's Catholic School in Baldwin. I was an altar server and I entered the seminary of St. Pius the Tenth when I was 14 and then stayed on through college in the major seminary.
Was this your first career? Was North Shore, after priesthood?
Oh, no I did a few things. After I left the priesthood I was a diesel mechanic, yes, and then I taught religion in Old Westbury School of The Holy Child and went to school at night. Then I got into Queens College for school psychology.
Now, what's your favorite thing about working in a school or about being a school psychologist?
That's pretty easy. When I come in the morning, and I see these young faces who are bright and cheery or frightened or scared and they need some support and help. They're filled with potential-this is the beginning of their life. I feel privileged to be able to be a school psychologist, knowing that I could play some small part in their growth and happiness and adjustment to life, so that they could be happy and successful people. 
You've been working here for a pretty long time. How has your job, and in general, in your opinion, in the ways it affects you seen it change? 
Yeah, in a number of ways. Here at North Shore the number of students who were identified and put in special education increased very dramatically. Part of that was this change in view of taking disabled kids out of BOCES schools, which are small schools, and trying to integrate them into the mainstream. That was the right thing to do and increased the population and made my job very busy and secondly, on a negative side, was social media. Kids having access to social media would say terrible things through social media that they would never say to a fellow student face to face. That has complicated young people's psychological health and development, and it's a tragedy.
What is your favorite thing about North Shore Middle School? 
I like the fact that it's not a very, very large school 'cause I've worked in school district where it's just huge! So, the biggest thing I like about-one of the biggest things I like about North Shore Middle School is that it's not terribly big. It's kind of small, you can get to know a lot of people.
What was your favorite memory from your job here? Out of everything, are there any memories that stand out?
Yeah, I have many memories of working with the students in the Organic Gardening Club, going into the pond with waders, planting flowers, growing things…that was probably one of my fondest memories.
What are some things that you're looking forward to in retirement? Do you have any plans?  
Oh, yeah. I have many things. Fishing, I have a big garden in my backyard, my wife and I are going to go to Hawaii, we may take a cruise to Europe on the Queen Elizabeth II. Wow, we got-I love music. I want to join the Lincoln Center to hear classical music concerts and I love to bicycle. I can't run anymore, so I ride my bicycle a lot. 
Nice, and tell us about your favorite things about working with students- Do you have any special memories or stories to tell? -or even your collaboration with other teachers?
Yeah, that. Working with the other teachers was always a great joy to me because I've worked in other school districts where the teaching staff was not as knowledgeable about childhood development, early adolescent development. The staff here is very savvy, they're educated, and they make work here really enjoyable because we can discuss things and understand where each of us are coming from when we were working with students in need and that was a big joy, that was a big joy. 
I hope everyone who reads this interview, even if they've never met Dr. McKee, can see how he will truly be missed. Thank you, Dr. McKee for everything you did for North Shore Middle School!