In NSMS, are dogs or cats more popular? (Part 1)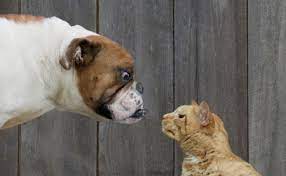 Have you ever wondered, 'What's more popular, dogs or cats?'  Well, I set up a poll to answer that very question.  In this experiment, I only had twenty responses, so it's hard to make a solid argument.  Yet, the answers were almost unanimous. Even with only twenty responses, they had rather conclusive results.
Now, for the big reveal.  Drumroll, please. . .  With a WHOPPING 80% of votes, dogs are the obvious more popular choice!  Now, as you may have seen, this is only Part 1.  I will encourage all of you to fill out this form and share it with others at NSMS (or siblings in the High School or Elementary School, it doesn't have to be so confined.) I would like more people to vote so that the results are more undeniable.  Those results I will use for Part 2.
(And, PS, don't vote for cats because you want to route for the underdog.  Use your true opinion.)