NASCAR's Clash at the Coliseum
This past weekend, NASCAR's clash happened. The clash is like a practice race for the duals which is what will determine if you start in the Daytona 500. This article will only contain the main Clash, no heats.
This Clash started off good with the 18 M&M car of Kyle Busch starting off with the pole. Tyler Reddick of the 8 car would take the lead away on lap 5. On lap 54 of 150, the first caution of the day would come out for Rickey Stenhouse Jr in the 47 car who spun out. Denny Hamlin would pit.
During the caution, the leader of Tyler Reddick would have trouble with his car and sadly, retire from the race. Kyle Busch would start with the lead. On lap 66, the second caution would happen, the 9 of Chase Eliot got loose after the 12 of Ryan Blaney made contact. Eliot hit the wall but was able to continue. On lap 76, the 22 of Joey Logono would take the lead from Kyle Busch. The same lap, a few seconds after the pass for the lead, the halfway caution came out. However, the 18 of Busch would start in first and next to him in 2nd was the 24 of William Byron. With 36 laps to go, the first caution that made a car retire to damage would happen. The 12 of Blaney was going slow and had some scraped right side, as later, the suspension. The 43 of Erik Jones was the cause of the caution; he aggressively dive-bombed up the inside (the left) of Blaney, sending Blaney into the wall. Just after the caution, the worst crash of the day would happen.
Last season's champion, Kyle Larson in the 5 car hit the 31 of Justin Haley. Haley hit the inside wall and bent a tire, sending the 31 car to the garage. On the same lap, Joey Logono would take the lead again. After that, the race would end with Joey Logono winning the Clash at the Coliseum.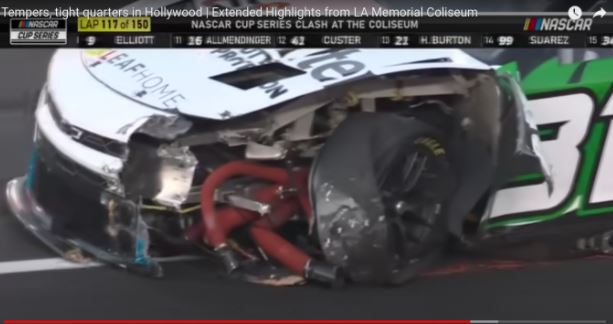 I hoped you liked this summary of the 2022 Busch Clash at the Coliseum.