NASCAR Daytona 500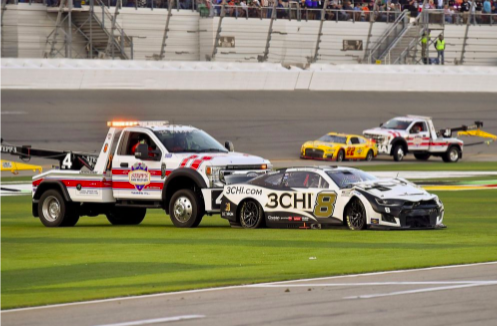 On February 20th, NASCAR's 2022 season started. The race started with Kyle Larson on the poll. The first 40 laps were exciting. Greg Biffle, in his return from NASCAR, had an issue forcing him into the garage. On lap 41, the first caution of the day would fly as two incidents happened: the 50 car of Kaz Grala would lose a wheel and the 14 of Chase Briscoe would get spun but did not DNF. However, for Grala, the NASCAR rules state that a 4 week (4 race) suspension would occur for the Crew Chief, Tire Changer, and Tire Carrier. The field would stay green until lap 52 where a debris caution would come out. Not long after that, the biggest crash of the day would occur. In his new 6 car, Brad Keselowski would aggressively turn the 21 car of the rookie of Harrison Burton would be turned into my favorite driver of William Byron. Byron would be turned into the inside wall hard. He was okay but was sadly out of the race. The 21 would have a scary flip after hitting the 20 car and the 11, 18, 1, and 48 would be involved.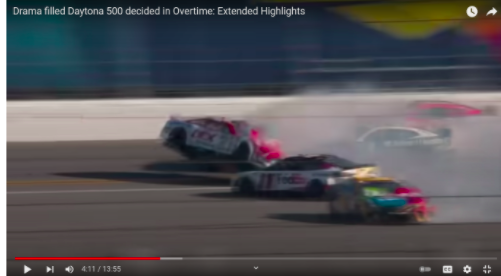 ABOVE: Harrison Burton starts to catch air while the 11 and 18 cars spin.
No driver was hurt but multiple cars were forced to withdraw from the race. After the scary crash, the stage would end a little later. The next yellow would happen would be another big crash in which the cover showed the 8 of Tyler Reddick out of the race. From lap 160, it stayed green for a while until the final big one would happen. Many drivers crashed out. One of them was last season's champion, Kyle Larson.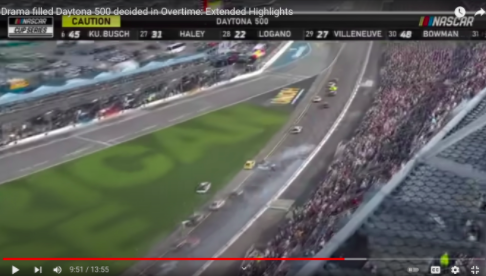 ABOVE: The field starts to crash and many scatter.
Then the 47 of Rickey Stenhouse would lead. He lead for two laps until the 6 cars turned him into the wall which collected the 17 cars of Chris Buscher. Then on the last lap, the Rookie of Austin Cindric would lead the race. He was the 2020 NASCAR Xfinity Series champion. He showed he had the talent in him and coming to the line, his teammate, Ryan Blaney, came up his outside. He put him into the wall but Cindric started to slow down. The 23 of Bubba Wallace came and attempted to pass but it was too late. Cindric had crossed the finish line first. He had one his first career race and in memorable fashion. While he did a burnout. He punctured a tire and needed the new tires. I hoped you liked this article about the 2022 Daytona 500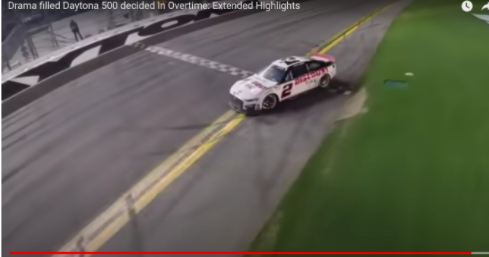 ABOVE: Austin Cindric is about to start his burnout