The Creation of North Shore School District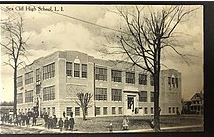 North Shore School District was created by the smaller Sea Cliff, Glen Head, and Glenwood Landing school districts in 1953. The three school districts wanted to merge and create a central school district. However, the residents of Glenwood Landing opposed the merger of the three school districts because they did not want to share revenue from the Glenwood Generating Station. After a failed vote the schools finally merged and created the first central school district in Nassau County, which at the time was referred to as Central School District NO.1.
 Many schools were part of Central School District NO.1. It consisted of Sea Cliff School, Glenwood Landing, Glen Head, North Shore Middle School, and North Shore High School. Sea Cliff School had been built in 1912 and expanded in 1926. It was initially K-12. Glen Head was in Glenwood Landing's old building which was built in 1927 and Glenwood Landing was in the new building constructed in 1946. Glen Head and Glenwood landing schools did not provide  At the time North shore high school didn't exist so students attended Roslyn, Glen Cove, and Sea Cliff. The first school built by the district was Kissam Lane School, now known as North Shore Middle School. Kissam Lane was a six-classroom school that taught K-3. In 1960, the construction to turn Kissam Lane was approved and officially became North Shore Middle School.
In 1970, Sea Cliff School was in such a state of disrepair that there were many proposals to shut it down or demolish it. In addition, there were renovations made to North Shore Middle School, High School, and Glen Head School.
A series of major renovations and additions to all five school buildings was performed in 2000. The most major work included demolishing and replacing the north and south wings of Sea Cliff School. The renovations added 15 classrooms and a new cafeteria and library to the school. During the renovation, Sea Cliff students temporarily used the nearby vacant St. Boniface Parish school building. Additionally, an addition was constructed to Glenwood Landing School, and North Shore Middle School's cafeteria was expanded.
It's been more than 70 years since the creation of the North Shore School District. As a district we have expanded and grown, adding a new addition to the school. We are creating a school where everyone feels accepted and included, leaving a legacy that in another 70 years, future students will be writing about the continuation of the qualities that makes us North Shore.