All About Mr. Rus: 7th Grade Social Studies Teacher
Many students around NSMS know Mr. Rus for his optimistic energy and exciting classes. Every student who comes into his class walks out with a smile. He never ceases to make people happy. Mr. Rus is definitely more than meets the eye. In this interview, Mr. Rus shines a light on some things we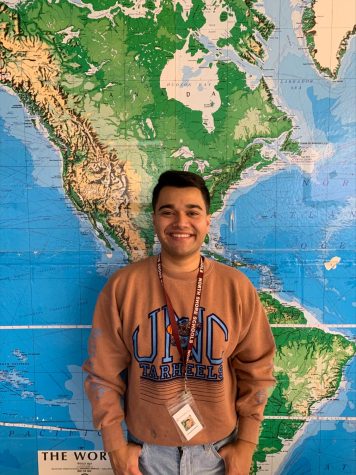 may not have known about him.
What made you want to teach Social Studies?
I knew that I wanted to teach during my senior year of high school. I was tutoring a 3rd-grade student from Honduras, simply helping her to complete her homework. It was in these moments of helping and assisting that student that I knew I wanted to make a difference in students' lives. Plus, I have always loved Social Studies and knew that that was the subject for me!
Who is your biggest inspiration?
My biggest inspiration is my Grandmother. She persevered after immigrating to the U.S. from Puerto Rico and has always made the best of every situation she was put in. She has led my family through difficult times and has always encouraged me to believe in myself. She treats everyone she meets with special kindness and love that I try to emulate every day.
How do you feel about being a long-term substitute for Mrs. Larkin?
I am honored to be a long-term substitute for Mrs. Larkin. When I first joined the North Shore family in February of 2022, Mrs. Larkin was one of my biggest helps during my transition to this new school environment. She is a constant ray of sunshine and a source of joy for everyone she comes in contact with. I try my best every day to be like her in the way that I teach and the way that I treat others. I truly am filling in for the time being, the biggest shoes of all time!
Tell us something about yourself.
Something about me is that I am currently pursuing my Master's Degree in Special Education! I want to be able to help all students of all backgrounds and abilities. I am learning every day that each of us is unique in our own ways and bring so much to the table. The same can be said of every student! That's what makes the school such a special place!
Is there a quote that you live by?
Yes, there is! When I left my previous teaching position as a permanent substitute to come to North Shore, a student gifted me a key chain. It said, "May you be proud of the person you are, the work you do, and the difference you make." As a teacher, I live by this every day and do my best to make a difference in each of my students' lives.
Have you ever considered being a permanent teacher here?
Are you kidding me?!? Of course, I have! I love the North Shore family and the students that make up this great school! I believe with all my heart that this is one of the best schools ON THE PLANET and would love it if I became a permanent teacher here! It would be a dream come true.
Anything else you want readers to know?
I want every reader to know that they are here for a reason. Everyone takes different paths in this life but it is the journey that makes it beautiful, not the destination. Enjoy every day that you are given, do what you love to do, and shoot for the moon. Even if you miss, you'll end up in the stars!
All the best,
Mr. Rus