Girls Can Play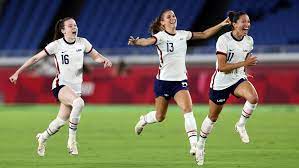 "Why are you playing sports? You're a girl!" shouted a boy during recess. Us girls were playing a football game. Well, guess what boys, girls can play sports…and we're good at it too!
Since we were playing football, let's talk about football. Toni Harris was the first woman that received a football scholarship to a college. No, not as a kicker, as a position player. Everyone told her she couldn't do it, but she did. And she did it while also having an abusive childhood AND beating cancer! They are now talking about hiring her to play in the NFL. She only goes for touchdowns on the field and in life.
Pretty impressive, right? Now let's move on to soccer. The US women's soccer team won every single world cup except for one, where they achieved 2nd place. Let me inform you that the men's team never even qualified! Do you know who scored the most international goals ever? A woman, Abby Wambach. And the person before that? Mia Hamm, another woman!
Swoop in the ball goes and that's another one swoops. Swoops is another girl who can rule the court; she won 3 WNBA awards and MVP awards in 2000, 2002 and 2005. Also 4 WNBA titles in 1997-2000 playing on the Houston Comets. Another accomplishment is when she was in junior college she was named the 1991 junior college player of the year, and when she was in the Texas Tech. University, she won the national player of the year. Also in her senior season, she led the lad Raiders to the 1993 collegiate athletic association national championship where Swoopes set a record for most points scored in the title game, with 47 points.
Now that might change your mind, obviously girls can be as good as boys and better there is now end to how much women can do.