We'll Miss You, Ms. Shea
15 Questions About Her Teaching Experience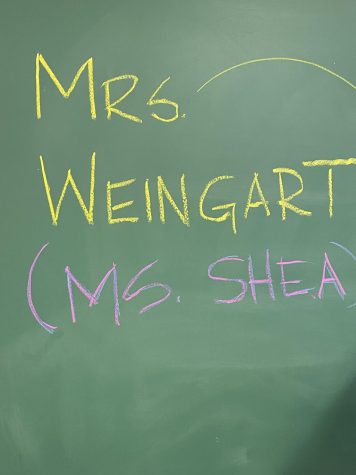 Mrs. Pam Weingart (formerly and best known as Ms. Shea), has worked for the North Shore Central School District for 34 years, and it is now her time to retire. If you don't know who she is, she is a well-known art teacher who lives in the district. She is known for being a wonderful art teacher. On January 28th, she will officially be retired, and a new teacher will come in her place. To let her legacy live on with future students, I have interviewed her for this article.
What is your backstory?
Well, I didn't even mean to become an art teacher. I kind of became an art teacher by accident. I was going to work in a museum, and then I moved. I was living in Oklahoma at the time, and I came back to New York. I was looking for jobs in the city for museums, and working in an office in Glen Head when the principal from North Shore Middle School called me-it was a junior high then, it wasn't even a middle school-and asked me if I could come in and sub because he knew I had a strong art background. Then I loved it, and I became a teacher.
What do you hope for NSMS after you leave?
I am really excited about the construction that's happening here. I think the construction is going to offer opportunities for better teaching and interactions with people, kind of how technology changed my job from, you know, not having computers and smartboards. It's just going to get better, and I hope it continues to. I think it's going to be a great school.
What were some of your most memorable experiences while being a teacher?
Well, I taught during 9/11. That was sad and scary, but I was glad that I was with my kids in my class at the time. Another memorable time was winning Team Challenge a couple of years ago when I was Team Leader. Another memorable time was when we went on trips to Philadelphia. I used to organize the Philadelphia field trips with the seventh grade. Another time was when I dropped a bucket of plaster and the whole entire bucket of plaster splashed up all over me. Those I think are my most memorable times.
What will you miss most about NSMS?
The people, absolutely. The people here are so great. The kids are so great. The teachers are so great. Everybody's really nice and really funny, and everyone tries really hard at whatever they do. It's really inspiring to be around people like that all day.
If you had to come back to NSMS 50 years from now, what would you like it to be like?
I would like it to feel like the way it does now where everybody is respected and people are kind and friendly to each other, and support each other. And maybe even more that way. Maybe it could be even nicer where everybody feels safe and happy and appreciated all day, every day here.
What is your favorite thing about NSMS?
My favorite thing about NSMS is that whatever is going on outside my life in school like whether, you know things are good in my life or things are bad in my life, or the weather is good or the weather is bad, when you walk through the door here, you feel happy.
What is something you want NSMS students and teachers to remember about you after you leave?
Well, my goal is for whenever my students think about me, or think about my class is that they have happy memories, either happy memories of being in the Art Room or happy memories of the fun that we had in the classroom because I want everybody to kind of love art. Anything to do with art, I want to be happy, and I know I'd be part of that memory for them as their art teacher. I want people to remember just the fun, everything positive about.
What was your favorite year as a teacher?
My favorite year as a teacher at NSMS would have been the year I came back from Sea Cliff School, and I think that was 2009 or 2010. A lot of changes had happened while I was gone. We had a new principal, Dr. Ferris, and he started this thing called Team Challenge, and back in those days, it was a week of just fun and silliness, and competition between the teams. One of the competitions was to create a big, giant murals in the cafeteria. There was a contest for each team, and we made a giant three-dimensional werewolf coming out of the wall in the cafeteria; it was really cool and really fun.
Did you prefer teaching at Sea Cliff School, or here?
I loved Sea Cliff School, and it surprised me how much I loved it, but my heart belongs in the middle school. I love middle schoolers. I think middle school kids are the perfect combination of still being young enough and willing to try things, but grown-up enough to do some hard work.
Did you like being a teacher at NSMS more when you were new or now?
Probably both, but different. So, when I was a new teacher I was so excited to be here. I couldn't believe how lucky I was to be here, and I loved it. Now, I love it differently because after all the years of teaching I'm pretty good at it, and I feel like my experience comes in handy, and I can have a little more fun teaching. Be a little less worried, and more relaxed.
How was art class different when you started than now when you are leaving?
Oh my gosh, it's completely different. When I first started teaching, we had no computers, no Smartboards. I had to teach my lessons on a chalkboard, and if I wanted to show pictures of art, I had to take books out from public libraries to show my kids examples of artwork. It was completely different than it is today.
Do you think you will ever come back to NSMS as a guest or art sub?
I can't say never. I would love to come back. I'm going to miss everybody a lot. So, hopefully I'll have an opportunity to someday.
If you weren't an art teacher, what type of job would you have liked to have?
Something that I would have really liked to be able to do was to be a veterinarian because I love animals.
What is your favorite project you did with your students in art?
I used to teach a sculpture class, years ago, and we did this project where everybody took their favorite small object that they could hold in their hand, and we made it huge. Like a giant piece of bubblegum, giant toothbrush, all kinds of giant Oreos somebody made, giant bowling pin, and that was really, really fun. Those came out super cool.
Any other important things that you would like to say?
Well, I will say that I hope everyone-all of my students-have a job they love as much as I loved my job and want to come to work every day as much as I wanted to come to work every day. The 34 years in total went by so fast that I can't believe it, and I am very, very lucky to have such good memories.
I hope everyone who reads this article, even if they've never met Ms.Shea, feel the same way about her as I do. She is irreplaceable and will be truly missed.