Get To Know Mr. Glickman
14 Questions with one of NSMS'S Most Uplifting Staff Members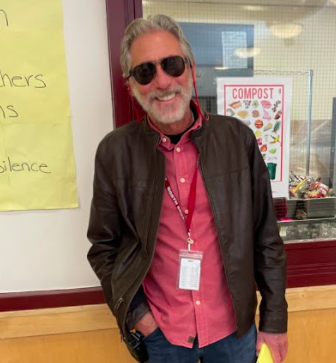 Mr. Glickman (or Mr. Mark) is an attendance officer at our school. He's always out at lunch, or in the morning as we walk in welcoming everybody. You could say he has a harder job than the teachers because not only does he have to be responsible for all the attendance information, but also keeping control of a large portion of the grade, cleaning down the lunch tables, and tracking down students to get them where they need to be. Almost everyone knows who he is, and he knows almost everyone's name. But how much do we know about him? Not that much. Most 6th and 7th graders would be surprised that he was only hired in 2020! I asked him 14 questions about himself and his job experience to find out what it is like to be one of North Shore Middle School's most unique employees.
What is your backstory?
I was in marketing for 32 years and at the end of 2019 I switched, sold my company, and then in 2020, I started working in North Shore Middle School.
What does your job title include?
I am the attendance officer and a lunch monitor. I am responsible for tracking the whereabouts of all the students and making sure they enjoy their lunchtime safely and happily.
What is the best part of your job?
Basically, everything I said. Working for the staff to help them, and working for the students to help them as well!
What made you want to work in NSMS?
Mainly because I wanted to serve the community. I have lived here for coming on 20 years and I love the area, the people, what we stand for and how we live. I wanted to do something more.
What is your favorite thing about NSMS?
My favorite thing about North Shore Middle School is the students.
How is school here different from when you went to school?
Oh my, so so different. The school is MUCH more focused on the student's wellbeing. Back when I went, there were no social workers, psychologists, etc. Teachers weren't as aware as they are now about the struggles students may have in their lives whether it be educationally or personally. Today, everyone is much more in tune with that, and it makes for a much better experience for the students.
How do you feel you contributed to making NSMS a better place to go to school?
I try to be very positive and upbeat, especially greeting the students in the morning. A lot of times the hardest part of the day for the students is getting into school. Either students are tired and don't want to come to school or students suffer from anxiety and going to school is very daunting. I try to greet every one of them with a vivacious "hello" to help lighten the mood.
When my grade graduates, what would you like us to remember about you?
I want to be remembered mainly that I accomplished the goal of looking out for all of you and that you enjoyed your time.
If you had to go back to NSMS 50 years from today, how would you like it to feel?
I want to see that the school is thriving, the kids are healthy and safe, and that everyone is doing well.
If you didn't work as an Attendance Officer, what type of job at NSMS would you like to have?
Assuming I did not have the necessary degree to be a teacher, I would like to work on the custodial staff. They do such a great job of taking care of the school. I would like to do that. If I did have the necessary degree, I would love to be a teacher.
You said you worked in marketing before you came here. Did you like that job better?
It was very different. I was the owner of the company, so I not only enjoyed the field of marketing, I enjoyed running the company. I enjoyed being able to make the important decisions that not only impacted the business, but impacted the employees. You can help a lot of people when you are in such a position so I really enjoyed that. I get to do the same thing at the NSMS, so in many respects, it's similar in that regard.
What about the work environment in marketing? Did you like that better?
It was different than this. Obviously in business, you are there first and foremost to make a good profit. That is the purpose of business. In that-if you do make a good profit, it opens the opportunity to do really good things for people. Absent of that you can't do the things you would like to do for people. Here, it's all about the students, their wellbeing, their experience, and helping make good people out of them.
What are some of your most memorable times working here so far?
Really, it's kind of ongoing. I enjoy helping the staff and the kids as well. People appreciate that very much and that is very gratifying.
Anything else you'd like to add?
Well, I must say working in the school has given me a very different perspective on the education system, the teachers, and even the communities the schools serve. All for the better. I have an IMMENSE amount of respect for EVERYONE that works at school because in the main, everyone has the singular goal of helping each other to help make the students the best people they can be. Being part of that is an honor. It really is.
So, the next time you see Mr. Glickman in the hall, at lunch, or outside remember his story and how he helped make this school even better.